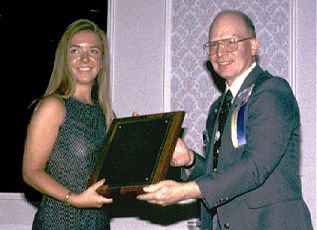 Nearly three dozen young astronomers from across the United States competed for the Astronomical League's National Young Astronomer Award. The top seven finalists were identified, and their award applications were submitted to our panel of national judges, all noted astronomers. The judges were Dr. Frank Bash, Director of the McDonald Observatory, Dr. David Hans Hough, professor at Trinity University, Dr. John Kielkopf, professor at University of Louisville, David Levy, noted astronomer, author, and comet discoverer, and Dr. Robert Stencel, professor at the University of Denver. Here are the results for 1998:
Left: 1998 National Young Astronomer Award winner Mary A. Dombrowski receives her award plack from Astronomical League President Barry Beaman. The presentation occurred at the Astronomical League's Fifty-First Annual Convention at French Lick Springs, Indiana.
First Place: Mary A. Dombrowski.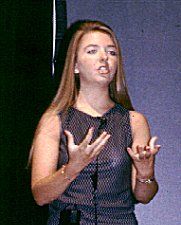 Our first place winner is Mary A. Dombrowski, a junior at Glastonbury High School in Glastonbury, Connecticut. She will be flown to the Astronomical League's 51st annual convention at French Lick Resort, Indiana this July. Mary will receive a $3,500 Meade 10-inch LX-200 telescope made possible by the generous support of Meade Instruments, Inc. In addition, she will receive a lifetime pass to the McDonald Observatory, compliments of the University of Texas.
Mary is an award winning member of the American Association of Variable Star Observers, and she continues to alert the astronomical community of rare outbursts of several cataclysmic variables. In one of her many astronomical research projects, she studied IP Pegasi, a cataclysmic variable star. By analyzing the light curves, she explained evidence of a companion star which eclipsed IP Peg during the outbursts.
Her project, Measuring Stellar Variability by Visual Photometry, won second place in physical science at the Connecticut State Science fair. As a high school freshman, she was selected to represent her state at the 1996 ISEF. At the International Science and Engineering fair, she won an award from the American Astronomical Society for her outstanding project. Mary has published technical papers and won awards for her hands-on presentations at astronomical conferences.
Mary's most recent science fair project is titled, The Cepheid Connection: Measuring Cosmic Distances. The Boston Science Museum has asked Mary for copies of her research results to be used to construct a display on variable stars at the museum. In a project that Mary finds most "wonderful and rewarding", she is now an astronomy mentor for a young lady in eighth grade in Pennsylvania.
Second Place: Joshua R. Neubert.
Joshua R. Neubert, a junior at Northern Garrett High School in Accident, Maryland, took second place honors. Joshua was our second youngest applicant, and took first place for all the states of the Mid-East Region of the League. As the NYAA runner-up, Joshua will receive a lifetime pass to the McDonald Observatory.
Joshua's astronomical research project was titled Determining Asteroid Orbital Elements. He completed his work in the 1997 Summer Science Program which was sponsored by the California Institute of Technology, UCLA, Pomona College, Harvey Mudd College, and NASA. In his project, Joshua used a 7-inch UCLA telescope to take photographic plates of the asteroid 2 Pallas. Using reference stars on the plates, he then calculated right ascension and declination for the asteroid on several different dates. Then he wrote a Pascal computer program to convert the measurements to the orbital elements. In the final analysis, his orbital elements were very close to those independently calculated by the International Astronomical Union. This clearly demonstrated that his computer program and measurements were right on target.
During the summer of 1996, he was selected to attend the University of Arizona's astronomy camp, and he conducted research with the Mount Lemmon Observatory 40-inch reflector. Joshua has attended numerous regional star parties and is a member of the Western Maryland Astronomy Club. He observes with two telescopes, a 60 mm refractor and an 11-inch SCT.
Joshua has a long list of other impressive awards, and he has maintained consistent honor roll grades. He won first place in his county for the University of Maryland's High School mathematics competition. His mathematics project won high honors in the regional science fair. In other activities, Joshua has played on his high school's soccer, basketball, and track team. In scholastic competition, he was selected for his school's Academic and Science Bowl teams.
Third Place: Alyson Barrows Dougherty.
Our third place winner is Alyson Dougherty, a senior at Glenbrook North High School in Northbrook, Illinois. In addition to her national standing, she is the first place winner for all the states of the North Central Region of the League. Alyson completed an astronomical research project, Detecting Global Oscillations on Jupiter. The purpose of Alyson's work was to detect and identify global harmonic oscillatory modes of Jupiter. This in turn, could be used to determine the dynamics of the interior structure of the largest gas giant in our solar system. Alyson was assisted by astronomers at the University of Chicago, and for data gathering, the Hubble Space Telescope magneto-optical filter was used. To develop her hypothesis, Alyson studied the nature of waves and harmonic modes.
Alyson has a long list of impressive achievements and an outstanding academic record. Her current grade point average is 3.82/4.00. Last summer, she was selected to attend a language institute in Nice, France to refine her French language skills. She has done much community service work, and last summer, she was selected to be the drama director for 100 girls at a week long camp for her church.
Fourth Place: Heather Ann Harland.
Heather Ann Harland is a junior at Vidor High School in Vidor, Texas. In addition to her national fourth place ranking, she is first place for the Southwest Region of the Astronomical League. She is a talented observer and a most enthusiastic astronomer. In 1994, she became the youngest person ever to win the Astronomical League's honorary Messier certificate. Also, in that year, she became the youngest person ever qualified as a telescope operator for the George Observatory's 36-inch Cassegrain telescope. This observatory is operated by the Houston Museum of Natural Science at Brazos Bend State Park in the State of Texas.
Heather has been a very active community volunteer. For the past two years, she has volunteered at the Challenger Center. She has visited many schools to introduce students to the wonders of the night skies at local star parties. Heather has a long list of high school awards. In 1995, she won the Dedication to Excellence Award, and she is now a member of the National Honor Society. Heather hopes to study astronomy in college, and to someday become an astronaut.
Fifth Place: Marcie Kerneklian.
Marcie is a senior at Maine-Endwell High School in Endwell, New York, and she has been interested in astronomy as long as she can remember. Years ago, an amateur astronomer brought a small telescope to her elementary school. It was her first look through a telescope, and she has been totally "captivated ever since".
Marcie is a member of the Kopernik Astronomical Society and has done CCD imaging of varied deep sky objects. Selected as an intern, Marcie attended numerous programs at the Kopernik Space Science and Technology Institute. At the institute, she studied astrophotography and telescope operations. During her junior year, she began giving public tours of the observatory including visits to the institute's 20-inch telescope. She has done so well that the institute has offered her a teaching position, and she now teaches digital camera operations and general topics in astronomy.
Sixth Place: Sorrel Fern Barnes.
Sorrel is a junior at Sacramento Waldorf School in Fair Oaks, California. She is the first place winner for the Western Region of the Astronomical League. This region includes the states of Arizona, California, Nevada, and Hawaii. Sorrel completed an astronomical report titled, Nebulae: Beauties of the Night Sky. She has been interested in astronomy for years, but a few years ago, she attended a gathering of amateur astronomers from the Northern California Astronomical Society. During the evening, she explored the wonders of deep space with a 20-inch Dobsonian telescope. This showed her that she, too, could be a part of the exciting science of astronomy. She purchased her own telescope, and now explores the night sky from home any chance she gets.
She maintains an "A" grade average in high school and earned an "A+" in her high school astronomy course. Sorrel has been a musician for years, and for the past 1 1/2 years, she has been a flute instructor.
Seventh Place: Adam Muirhead
Our youngest applicant and seventh place winner is Adam Muirhead of Italy High School in Italy, Texas. Adam's NYAA application included a research report, The Composition and Aspects of Comets. In his report, he described the composition of comets, but also included an excellent guide for observing comets through a telescope. Adam described the importance of dark adapting, observation records, and other good observing skills. Adam concluded his report by giving us all something to think about: Light Pollution. "If we don't clean up our light pollution,... what we can't see can and will hurt us".
Adam has attended numerous star parties, and he recently observed the beauty of our skies from the McDonald Observatory. Last year, Adam purchased a Meade 8-inch Starfinder equatorial reflector, and he now observes from home using this new telescope.
---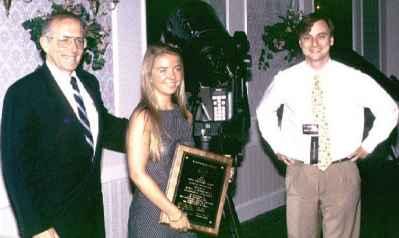 From left to right: N.Y.A.A. Chair Robert Gent, 1998 Award Winner Mary A. Dombrowski, and Meade Representative Scott Roberts.