This year, the competition was intense, and one of our judges reported "They are all winners!" Dozens of high school students from across the United States competed for the Astronomical League's National Young Astronomer Award. The top six finalists' award applications were submit-ted to our panel of national judges, all noted astronomers. For this year's award, the judges were Dr. Frank Bash, Director of the McDonald Observatory, Dr. David Hans Hough, professor at Trinity University, and Dr. Robert Stencel, professor at the University of Denver. Here are the results for 1999:
First Place: Elizabeth Fernandez.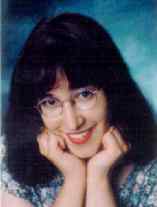 Elizabeth Fernandez is the first place winner. She is a senior at St Pius X High School in Albuquerque, New Mexico. She will receive an all expenses paid trip to the Astronomical League's 52nd annual convention at Cheney, Washington, this July where she will receive a $3,500 Meade 10-inch LX-200 telescope made possible by the generous support of Meade Instruments Corporation. In addition, she will receive a lifetime pass to the McDonald Observatory, compliments of the University of Texas.
Elizabeth's most recent astronomical research project was titled, Active Galaxies in the Perseus Supercluster. Elizabeth compared Seyfert galaxies to Low-Ionization Nuclear Emission-line Region (LINER) galaxies, and she concluded that black holes provide the power for Active Galactic Nuclei (AGNs). She used imaging equipment and telescopes at the Capilla Peak Observatory in New Mexico to conduct her observations. Elizabeth has a long list of outstanding awards and achievements. She was elected to the National Honor Society in her junior year, and has been a top ranked, honor roll student despite a challenging course load which included calcu-lus and advanced physics. At the regional science fair in 1998, she won first place for her project, Spectroscopy, Unlocking the Secrets of the Universe. She received six first place achievement awards from science organizations and sci-ence fairs for her superb astronomical research work.
Second Place: Rigel Woida-O'Brien.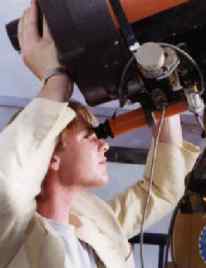 Rigel Woida-O'Brien, a senior at Tucson High Magnet School, won second place honors. Rigel will receive a lifetime pass to the McDonald Observatory. Rigel was the key engineer and driving force in the fabrication of the primary and secondary optics on his school's new 30-inch telescope, the largest telescope in Tucson, Arizona. In addition, he served as co-instructor in a research methods class to teach other students optics techniques and CCD imaging methods.
In 1998, Rigel won second place honors in the regional science and engineering fair and was selected to represent his school at the International Science and Engineering Fair. At ISEF, Rigel won a second place award and $1500 for his technical achievements with Interferometric Testing of Optical Surfaces. In this project, Rigel built a Helium-Neon based interfer-ometer. Based upon his superb achievements in telescope design and fabrication, Rigel won sev-eral major scholarships.
Third Place: Tracy Lea Klayton.
The third place winner is Tracy Klayton, a senior at Thomas Jefferson High School for Science and Technology in Alexandria, Virginia. Her research involved calculating the distance to NGC 6543, the Cat's Eye Nebula.
Tracy used the Expansion Parallax Algorithm (EPA) to compare two images of NGC 6543 taken by the Hubble Space Telescope to calculate the distance. With this method, she found a distance of 923 +/- 231 parsecs. The Cat's Eye Nebula is an expanding shell of gas, also know as a planetary nebula. By comparing data from two images, it was possible to determine the distance to the nebula.
In addition to many other awards, Tracy is a National Honor Society member, and she is the founder and president of the Thomas Jefferson High School Astronomy Club. She continues to conduct astronomical research at the US Naval Observatory. Tracy is currently enrolled in advanced physics and calculus. Last year, she completed two high school astronomy courses.
Fourth Place: Sloane Wiktorowicz.
The fourth place winner is Sloane Wiktorowicz, a senior at Santa Teresa High School in San Jose, California. During the summer of 1996, he spent three weeks at the Lick Observatory as a volunteer. During the day, he reorganized photographic plates and also inventoried unexposed plates. By night, he observed with professional planetary astronomers.
Earlier this year, he won an award as out-standing senior mathematics student, and scored 800 out of 800 possible on his SAT math test. Sloane observes the night skies with his 4.5-inch Newtonian, and is now observing with the San Jose Astronomical Association's 8-inch Schmidt-Cassegrain telescope. He submitted an extensive log and drawings of planetary observation reports. Sloan reports to us that he has a burning passion to become an astronomer.
Fifth Place: Joshua R. Neubert.
Joshua R. Neubert, a senior at Northern Garrett County High School in Accident, Maryland, took fifth place honors. Joshua project was titled Orbital Stability of Extra-Solar Terrestrial Planets.
Joshua wrote a Turbo-Pascal computer pro-gram to analyze orbital characteristics of extra-solar planets. His purpose was to look for stable orbits around main sequence stars. He reasoned that if the orbits are stable, the chance for life would be greatly increased. For example, with an extremely elongated elliptical orbit, the seasons would change too dramatically to support life as we know it.
Joshua has been accepted by an impressive list of colleges. The Massachusetts Institute of Technology, the California Institute of Technology, the University of Arizona, and the University of Maryland have all accepted him.
Sixth Place: Meredith Kratzer.
Meredith Kratzer is a sophomore at James Madison High School in Vienna, Virginia, and this year she was our youngest finalist. She won many awards with her project, The Research and Analysis of Solar Activity and Its effects. In this research project, Meredith investigated the accu-racy of solar storm predictions and analyzed the impacts on radio propagation. She determined that a completely accurate way of predicting solar phenomena does not exist, and most measured data does not agree with predictions.
Meredith was a grand prize winner at the Fairfax County Regional Science fair in 1998, and she won many other awards in conjunction with her astronomical research. As a freshman, she competed in the 1998 ISEF, a remarkable achievement. Meredith is a member of the Northern Virginia Astronomy Club and the National Capital Astronomers.