The Jack Horkheimer Award for Exceptional Service by a young astronomer recognizes exceptional service by League astronomers under the age of 19. Three former presidents of the Astronomical League once again served as judges for this program. They are: Barry Beaman, Orville Brettman and Jim Fox. Thanks to these outstanding people for their continuing service to the League.
Now in its eighth year, this award is generously sponsored by Mr. Jack Horkheimer, the Star Gazer. The award is named in honor of Arthur P. Smith, Jr. Art Smith was the president of the Astronomical League from 1964-66, and he inspired Mr. Horkheimer to become active in astronomy. The First place winner will receive a trip to the League's 2005 Convention in Kansas City and a check for $1,000. All finalists receive complimentary memberships in the International Dark-Sky Association
Also, we would like to extend our special thanks to Celestron, Inc. for providing our first place winner with one of their company's fine telescopes, the StarHopper 6.
Be on the lookout for a young astronomer who can be nominated for this award. There are thousands of talented young astronomers across the country who are eligible to apply for this award. For an application or general information about the 2006 competition, please contact Mr.Carroll Iorg, Astronomical League Awards Coordinator carroll-iorg@kc.rr.com; (816) 444-4878) or refer to the League's web page www.astroleague.org/. The deadline for entries is March 31, 2006.

This year's top finishers are:
First Place: Benjamin Jones
The 2005 first place winner just completed his junior year at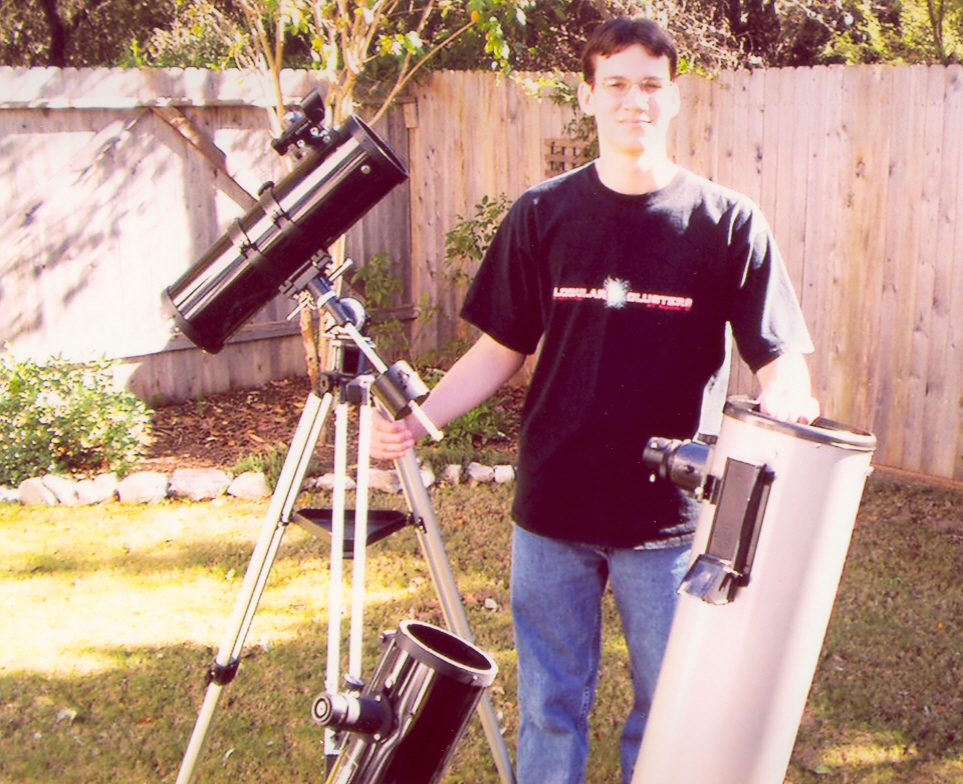 Sandra Day O'ConnorHigh School in Helotes, Texas. Benjamin's interest in astronomy began early with the gift of a telescope for Christmas. His astronomical knowledge had grown to the point that he was able to lead an astronomy class at his middle school. He founded an astronomy club at his high school and has served as its president for the two years it has been active. He plays baritone in the high school band and has won many awards from the debate team that he is a member of.
In 2004, he designed a science fair project where he constructed three different lighting replicas. He then was able to quantitatively measure the difference in how much light actually was going to the ground from these models. He received cash awards from the Alamo Regional Science and Engineering Fair for his project.
This year, Benjamin received the first place award for his entry at that fair this year for his design of a shielding modification for the Mercury Vapor lamp.
Benjamin has become an enthusiastic advocate for dark skies in the San Antonio, Texas metropolitan area. He serves as the International Dark Sky Association's representative for San Antonio. He has also served on many city governmental panels for both Helotes and San Antonio with the goal of encouraging businesses and other institutions to install shielded lighting on their buildings. He chairs the Helotes committee that is drafting the city's lighting ordinance to be voted on soon by the city council.
Benjamin has volunteered at George Observatory near Houston, Texas for the past several years and assists with the Challenger Learning Center and children's astronomy programs.
Benjamin has written education-type monthly astronomical columns in his local newspaper listing what is visible in the night sky for observing, as well as discussing dark sky issues and other topics.
He has completed the League's Messier, Caldwell, Double Star, Globular, Lunar and 12 hour meteor observing programs, in addition to several advanced observing lists at the Texas Star Party.
Benjamin is a member of the Houston Astronomical Society, and he was featured in the May 12, 2003 edition of Time Magazine in a photo from the Texas Star Party that year.
Second Place: Kelsey Norton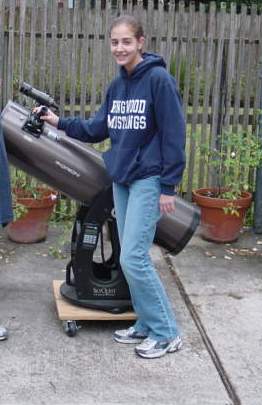 Kelsey has completed her sophomore year at Kingwood High School, Texas. When she was a freshman at the school, she learned that the school had a science team for the University Interscholastic League (UIL) competitions, but only biology, physics and chemistry were represented. On her own initiative, she recruited two teachers to help her convince the UIL that there should be a new Kingwood UIL Astronomy Team. The UIL approved this additional team. The team has been most successful, having won first place competitions in the Astronomy UIL competition at the Texas State Competition. She was awarded a first place medal in the Texas State Science Olympiad for her project, "Astronomy: Reach for the Stars."
She has contributed innumerable hours of public service to astronomical activities in the greater Houston area. In addition, at her local club, the North Houston Astronomical Club, she has volunteered countless hours helping club officers and other members as needed. She also assists with the club's public star parties and the club's Astronomy Day activities.
Kelsey found time to volunteer at McDonald Observatory during her spring break a few years ago, providing sky tours to the many visitors, sometimes using her own 4.5" telescope as well as pointing out the constellations to visitors. In addition, she has been a regular volunteer at Texas Astronomy Day activities that are held at the George Observatory each year.
Kelsey has earned the North Houston Astronomy Club's "The Observation Challenge" certificate as well as the Astronomical League's Universe Sampler Award.
Third Place: Matthew C. Aadland
Matthew attends Forest Middle School in Forest, Virginia. He has been a member of the Blue Ridge Astronomy Club since its beginning three years ago. He has attended almost all of the meetings that the club has held so far. He assists the officers with setting up for their meetings at the local Bedford (VA) Public Library, where the club's meetings are scheduled.
Matthew has volunteered at Scout Nights, helping the scouts to identify objects in the telescopes that the club sets up. In addition, at his school's viewing nights, he helps the middle school students identify constellations and stars.