First Place: Heather Ann Harland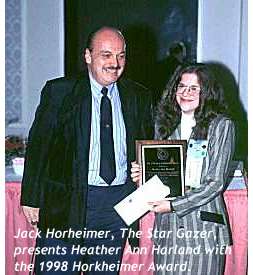 The first winner of the Horkheimer Award is Heather Ann Harland, a junior at Vidor High School in Vidor, Texas. She is a talented observer and a most enthusiastic astronomer. In 1994, she became the youngest person ever to win the Astronomical League's honorary Messier certificate. Also, in that year, she became the youngest person ever qualified as a telescope operator for the George Observatory's
36-inch Cassegrain telescope. This observatory is operated by the Houston Museum of Natural Science at Brazos Bend State Park in the State of Texas.
Heather has been a very active community volunteer. For the past two years, she has volunteered at the Challenger Center. She has visited many schools to introduce students to the wonders of the night skies at local star parties. Heather has a long list of high school awards. In 1995, she won the Dedication to Excellence Award, and she is now a member of the National Honor Society. Heather hopes to study astronomy in college, and to someday become an astronaut.
Second Place: Igor V. Fridman
Igor Fridman is a freshman at the University of Maryland enrolled in the physics department. Igor has a long list of achievements in public service to astronomy. Igor was the prime force in bringing an Astronomical League club to the Internet. The North Shore Amateur Astronomy Club of Massachusetts, now has a highly successful web page thanks to the outstanding efforts of Igor.
In addition to his award winning support of the NSAAC, he has worked as a volunteer for Boston University helping them develop new web sites for astronomical research. He also earned letters of appreciation for exceptional support of Boston University's 1996 Space and Astronomy Day. Igor has been an active observer and he has taken several astrophotographs.