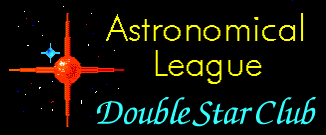 Double Star Program Chair:
Mike Benson
2308 Dundee Lane
Nashville, TN 37214-1520
(615) 883-6571
E-mail: ocentaurus@aol.com
---
Observing List
All objects are listed in Right Ascension order so that you can view them as they rise, and so that you can properly plan your observing sessions to make the most of your time. Information provided on each object includes: a check box, object to be observed, Right Ascension, Declination, magnitudes of the component stars, separation, and position angle from the primary star in the double or multiple system. In some cases I have not listed multiples that might require a telescope larger than a 60mm or more power than 150X to see. Stretch yourself! See what you can find! I realize that 100 objects out of many thousands in the heavens are only a small representation of what can be seen, and I have probably missed a few of your favorite doubles. If so, let me know which objects you recommend, and if there is enough interest, then just maybe we will have a second double star club.
For a printable version of the Checklist, click here
Double Star Observing List (Epoch 2000.0)
 
 
Index
Object
Right
Ascension
Declination
  Magni-tude.    
Separation
Position
Angle
[  ]
1
Eta Cassiopeiae
00h 49m.1
+57° 49'
3.4, 7.5
12"
307°
[  ]
2
65 Piscium
00h 49m.9
+27° 43'
6.3, 6.3
4.4"
297°
[  ]
3
Psi 1 Piscium
01h 05m.6
+21° 28'
5.6, 5.8
30"
159°
[  ]
4
Zeta Piscium
01h 13m.7
+07° 35'
5.6, 6.5
23"
63°
[  ]
5
Gamma Arietis
01h 53m.5
+19° 18'
4.8, 4.8
7.8"
0°
[  ]
6
Lambda Arietis
01h 57m.9
+23° 36'
4.9, 7.7
37"
46°
[  ]
7
Alpha Piscium
02h 02m.0
+02° 46'
4.2, 5.1
1.7"
50°
[  ]
8
Gamma Andromedae
02h 03m.9
+42° 20'
2.3, 5.5
9.8"
63°
[  ]
9
Iota Trianguli
02h 12m.4
+30° 18'
5.3, 6.9
3.9"
71°
[  ]
10
Alpha Ursa Minoris
02h 31m.8
+89° 16'
2.0, 9.0
18.4"
218°
[  ]
11
Gamma Ceti
02h 43m.3
+03° 14'
3.5, 7.3
2.8"
294°
[  ]
12
Eta Persei
02h 50m.7
+55° 54'
3.8, 8.5
28.3"
300°
[  ]
13
Struve 331
03h 00m.9
+52° 21'
5.3, 6.7
12.1"
85°
[  ]
14
32 Eridani
03h 54m.3
-02° 57'
4.8, 6.1
6.8"
347°
[  ]
15
Chi Tauri
04h 22m.6
+25° 38'
5.5, 7.6
19.4"
24°
[  ]
16
1 Camelopardalis
04h 32m.0
+53° 55'
5.7, 6.8
10.3"
308°
[  ]
17
55 Eridani
04h 43m.6
-08° 48'
6.7, 6.8
9.2"
317°
[  ]
18
Beta Orionis
05h 14m.5
-08° 12'
0.1, 6.8
9.5"
202°
[  ]
19
118 Tauri
05h 29m.3
+25° 09'
5.8, 6.6
4.8"
204°
[  ]
20
Delta Orionis
05h 32m.0
-00° 18'
2.2, 6.3
52.6"
359°
[  ]
21
Struve 747
05h 35m.0
-06° 00'
4.8, 5.7
35.7"
223°
[  ]
22
Lamda Orionis
05h 35m.1
+09° 56'
3.6, 5.5
4.4"
43°
[  ]
23
Theta 1 Orionis
05h 35m.3
-05° 23'
6.7, 7.9,
5.1, 6.7
8.8",13",
21.5"
31° , 132°, 96°
[  ]
24
Iota Orionis
05h 35m.4
-05° 55'
2.8, 6.9
11.3"
141°
[  ]
25
Theta 2 Orionis
05h 35m.4
-05° 25'
5.2, 6.5
52"
92°
[  ]
26
Sigma Orionis
05h 38m.7
-02° 36'
4.0, 7.5,
6.5
12.9",43"
84°, 61°
[  ]
27
Zeta Orionis
05h 40m.8
-01° 57'
1.9, 4.0,
9.9
2.4", 58"
162°, 10°
[  ]
28
Gamma Leporis
05h 44m.5
-22° 27'
3.7, 6.3
96"
350°
[  ]
29
Theta Aurigae
05h 59m.7
+37° 13'
2.6, 7.1
3.6"
313°
[  ]
30
Epsilon Monocerotis
06h 23m.8
+04° 36'
4.5, 6.5
13.4"
27°
[  ]
31
Beta Monocerotis
06h 28m.8
-07° 02'
4.7, 5.2
7.3"
132°
[  ]
32
12 Lyncis
06h 46m.2
+59° 27'
5.4, 7.3
8.7"
308°
[  ]
33
Epsilon Canis Majoris
06h 58m.6
-28° 58'
1.5, 7.4
7.5"
161°
[  ]
34
Delta Geminorum
07h 20m.1
+21° 59'
3.5, 8.2
6.8"
211°
[  ]
35
19 Lyncis
07h 22m.9
+55° 17'
5.6, 6.5
14.8"
315°
[  ]
36
Alpha Geminorum
07h 34m.6
+31° 53'
1.9, 2.9
2.2"
171°
[  ]
37
Kappa Puppis
07h 38m.8
-26° 48'
4.5, 4.7
9.9"
318°
[  ]
38
Zeta Cancri
08h 12m.2
+17° 39'
5.6, 6.0
5.9"
89°
[  ]
39
Iota Cancri
08h 46m.7
+28° 46'
4.2, 6.6
30"
307°
[  ]
40
38 Lyncis
09h 18m.8
+36° 48'
3.9, 6.6
2.7"
229°
[  ]
41
Alpha Leonis
10h 08m.4
+11° 58'
1.4, 7.7
177"
307°
[  ]
42
Gamma Leonis
10h 20m.0
+19° 51'
2.2, 3.5
4.4"
122
[  ]
43
54 Leonis
10h 55m.6
+24° 45'
4.5, 6.3
6.5"
110°
[  ]
44
N Hydrae
11h 32m.3
-29° 16'
5.8, 5.9
9.2"
210°
[  ]
45
Delta Corvi
12h 29m.9
-16° 31'
3.0, 9.2
24.2"
214°
[  ]
46
24 Comae Berenices
12h 35m.1
+18° 23'
5.2, 6.7
20.3"
271°
[  ]
47
Gamma Virginis
12h 41m.7
-01° 27'
3.5, 3.5
3.6"
293°
[  ]
48
32 Camelopardalis
12h 49m.2
+83° 25'
5.3, 5.8
21.6"
326°
[  ]
49
Alpha Canum Venaticorum
12h 56m.0
+38° 19'
2.9, 5.5
19.4"
229°
[  ]
50
Zeta Ursa Majoris
13h 23m.9
+54° 56'
2.3, 4.0,
4.0
14.4", 709"
152°, 71°
[  ]
51
Kappa Bootis
14h 13m.5
+51° 47
4.6, 6.6
13.4"
236°
[  ]
52
Iota Bootis
14h 16m.2
+51° 22'
4.9, 7.5
38"
33°
[  ]
53
Pi Bootis
14h 40m.7
+16° 25'
4.9, 5.8
5.6"
108°
[  ]
54
Epsilon Bootis
14h 45m.0
+27° 04'
2.5, 4.9
2.8"
339°
[  ]
55
Alpha Librae
14h 50m.9
-16° 02'
2.8, 5.2
231"
314°
[  ]
56
Xi Bootis
14h 51m.4
+19° 06'
4.7, 7.0
6.9"
332°
[  ]
57
Delta Bootis
15h 15m.5
+33° 19'
3.5, 8.7
105"
79°
[  ]
58
Mu Bootis
15h 24m.5
+37° 23'
4.3, 7.0
108"
171°
[  ]
59
Delta Serpentis
15h 34m.8
+10° 32'
4.2, 5.2
3.9"
178°
[  ]
60
Zeta Corona Borealis
15h 39m.4
+36° 38'
5.1, 6.0
6.3"
305°
[  ]
61
Xi Scorpii
16h 04m.4
-11° 22'
4.8, 7.3
7.6"
51°
[  ]
62
Struve 1999
16h 04m.4
-11° 27'
7.4, 8.1
11.6"
99°
[  ]
63
Beta Scorpii
16h 05m.4
-19° 48'
2.6, 4.9
13.6"
21°
[  ]
64
Kappa Herculis
16h 08m.1
+17° 03'
5.3, 6.5
28"
12°
[  ]
65
Nu Scorpii
16h 12m.0
-19° 28'
4.3, 6.4
41"
337°
[  ]
66
Sigma Corona Borealis
16h 14m.7
+33° 52'
5.6, 6.6
6.2"
233°
[  ]
67
16/17 Draconis
16h 36m.2
+52° 55'
5.4, 6.4,
5.5
3.4, 90
108°, 194°
[  ]
68
Mu Draconis
17h 05m.3
+54° 28'
5.7, 5.7
2.0"
42°
[  ]
69
Alpha Herculis
17h 14m.6
+14° 23'
3.5, 5.4
4.7"
107°
[  ]
70
Delta Herculis
17h 15m.0
+24° 50'
3.1, 8.2
8.9"
236°
[  ]
71
36 Ophiuchi
17h 15m.3
-26° 36'
5.1, 5.1
4.4"
154°
[  ]
72
Omicron Ophiuchi
17h 18m.0
-24° 17'
5.4, 6.9
10.3"
355°
[  ]
73
Rho Herculis
17h 23m.7
+37° 09'
4.6, 5.6
4.1"
316°
[  ]
74
Nu Draconis
17h 32m.2
+55° 11'
4.9, 4.9
62"
312°
[  ]
75
Psi Draconis
17h 41m.9
+72° 09'
4.9, 6.1
30.3"
15°
[  ]
76
40/41 Draconis
18h 00m.2
+80° 00'
5.7, 6.1
19.3"
232°
[  ]
77
95 Herculis
18h 01m.5
+21° 36'
5.0, 5.1
6.3"
258°
[  ]
78
70 Ophiuchi
18h 05m.5
+02° 30'
4.2, 6.0
2.8"
72°
[  ]
79
Epsilon Lyrae
18h 44m.3
+39° 40'
5.0, 6.1,
5.2, 5.5
208", 2.6",
2.3"
357°, 173°, 94°
[  ]
80
Zeta Lyrae
18h 44m.8
+37° 36'
4.3, 5.9
44"
150
[  ]
81
Beta Lyrae
18h 50m.1
+33° 22'
3.4, 8.6
46"
149°
[  ]
82
Struve 2404
18h 50m.8
+10° 59'
6.9, 8.1
3.6"
183°
[  ]
83
Otto Struve 525
18h 54m.9
+33° 58'
6.0, 7.7
45"
350°
[  ]
84
Theta Serpentis
18h 56m.2
+04° 12'
4.5, 5.4
22.3"
104°
[  ]
85
Beta Cygni
19h 30m.7
+27° 58'
3.1, 5.1
34.4"
54°
[  ]
86
57 Aquilae
19h 54m.6
-08° 14'
5.8, 6.5
36"
170°
[  ]
87
31 Cygni
20h 13m.6
+46° 44'
3.8, 6.7,
4.8
107", 337"
173°, 323°
[  ]
88
Alpha Capricornus
20h 18m.1
-12° 33'
3.6, 4.2
378"
291°
[  ]
89
Beta Capricornus
20h 21m.0
-14° 47'
3.4, 6.2
206"
267°
[  ]
90
Gamma Delphinus
20h 46m.7
+16° 07'
4.5, 5.5
9.6"
268°
[  ]
91
61 Cygni
21h 06m.9
+38° 45'
5.2, 6.0
28"
146°
[  ]
92
Beta Cephei
21h 28m.7
+70° 34'
3.2, 7.9
13.3"
249°
[  ]
93
Struve 2816
21h 39m.0
+57° 29'
5.6, 7.7,
7.8
11.7", 20"
121°, 339°
[  ]
94
Epsilon Pegasi
21h 44m.2
+09° 52'
2.4, 8.4
142"
320°
[  ]
95
Xi Cephei
22h 03m.8
+64° 38'
4.4, 6.5
7.7"
277°
[  ]
96
Zeta Aquarii
22h 28m.8
-00° 01'
4.3, 4.5
1.8"
266°
[  ]
97
Delta Cephei
22h 29m.2
+58° 25'
3.9, 6.3
41"
192°
[  ]
98
8 Lacerta
22h 35m.9
+39° 38'
5.7, 6.5
22.4"
186°
[  ]
99
94 Aquarii
23h 19m.1
-13° 28'
5.3, 7.3
12.7"
350°
[  ]
100
Sigma Cassiopeiae
23h 59m.0
+55° 45'
5.0, 7.1
3"
326°