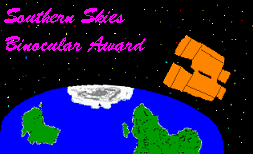 Southern Sky Binocular Program Chair:
Cindy La Russa
111 W. Forrest Feezor St.
Corona de Tucson, AZ 85641-2109
(509) 995-9885
larussa.cindy@gmail.com
The List
All objects are listed in Right Ascension order so that you can view them as they rise, and so that you can properly plan your observing sessions to make the most of your limited time. Information provided on each object includes: Catalog Number, Right Ascension, Declination, Magnitude, Position Angle if the object is a galaxy, Type of Object, Size, Constellation, and what chart they are located on in both the Uranometria and Tirion's Sky Atlas 2000. Notes are provided on a few objects to clarify their observation.
We hope that you have a chance to observe the glorius southern skies. They are indeed enough to take your breath away. The Magellanic Clouds alone are worth the trip to the Southern Hemisphere. If you are fortunate enough to find yourself south of the equator, we hope that you find this list useful. Good luck, clear skies, and good observing.
For a printable version of the Checklist, click here
Objects to Observe
 
Object
R.A.
DEC
Mag
PA*
Type
Size
Const
Urn
SA
[  ]
NGC 104
00
24.1
-72
05
4.5
-----
GbCl
25.0'
Tuc
440
24
[  ]
SMC
00
52.8
-72
50
2.7
10
Glxy
316'X186'
Tuc
441
24
[  ]
NGC 362
01
03.2
-70
51
6.6
-----
GbCl
12.9'
Tuc
441
24
[  ]
NGC 1261
03
12.3
-55
13
8.4
-----
GbCl
6.9'
Hor
419
24
[  ]
NGC 1851
05
14.1
-40
03
7.2
-----
GbCl
11.0'
Col
393
19
[  ]
LMC
05
23.6
-69
45
0.9
170
Glxy
646'X550'
Dor
444
24
[  ]
NGC 2070
05
38.6
-69
05
8.2
-----
BNeb
40'X25'
Dor
445
24
[  ]
NGC 2451
07
45.4
-37
58
2.8
-----
OpCl
45.0'
Pup
362
19
[  ]
NGC 2477
07
52.3
-38
33
5.8
-----
OpCl
27.0'
Pup
362
19
[  ]
NGC 2516
07
58.3
-60
52
3.8
-----
OpCl
29.0'
Car
424
24
[  ]
NGC 2547
08
10.7
-49
16
4.7
-----
OpCl
20.0'
Vel
396
20
[  ]
NGC 2546
08
12.4
-37
38
6.3
-----
OpCl
40.0'
Pup
362
20
[  ]
NGC 2627
08
37.3
-29
57
8.4
-----
OpCl
11.0'
Pyx
363
20
[  ]
IC 2391
08
40.2
-53
04
2.5
-----
OpCl
50.0'
Vel
425
25
[  ]
IC 2395
08
41.1
-48
12
4.6
-----
OpCl
7.0'
Vel
397
20
[  ]
NGC 2659
08
42.6
-44
57
8.6
-----
OpCl
2.7'
Vel
397
20
[  ]
NGC 2670
08
45.5
-48
47
7.8
-----
OpCl
9.0'
Vel
397
20
[  ]
NGC 2808
09
12.0
-64
52
6.3
-----
GbCl
13.8'
Car
448
25
[  ]
IC 2488
09
27.6
-56
59
7.4
-----
OpCl
14.0'
Vel
425
25
[  ]
NGC 2910
09
30.4
-52
54
7.2
-----
OpCl
5.0'
Vel
426
25
[  ]
NGC 2925
09
33.7
-53
26
8.3
-----
OpCl
12.0'
Vel
426
25
[  ]
NGC 3114
10
02.7
-60
07
4.2
-----
OpCl
35.0'
Car
426
25
[  ]
NGC 3201
10
17.6
-46
25
6.7
-----
GbCl
18.0'
Vel
399
20
[  ]
NGC 3228
10
21.8
-51
43
6.0
-----
OpCl
18.0'
Vel
426
25
[  ]
NGC 3293
10
35.8
-58
14
4.7
-----
OpCl
5.0'
Car
427
25
[  ]
Mel 101
10
42.1
-65
06
8.0
-----
OpCl
13.0'
Car
449
25
[  ]
IC 2602
10
43.2
-64
24
1.9
-----
OpCl
50.0'
Car
449
25
[  ]
NGC 3372
10
43.8
-59
52
1.0
-----
BNeb
120'X120'
Car
427
25
[  ]
NGC 3532
11
06.4
-58
40
3.0
-----
OpCl
55.0'
Car
427
25
[  ]
IC 2714
11
17.9
-62
42
8.2
-----
OpCl
12.0'
Car
449
25
[  ]
Mel 105
11
19.5
-63
30
8.5
-----
OpCl
4.0'
Car
449
25
[  ]
NGC 3766
11
36.1
-61
37
5.3
-----
OpCl
12.0'
Cen
428
25
[  ]
NGC 4052
12
01.9
-63
12
8.8
-----
OpCl
7.0'
Cru
450
25
[  ]
NGC 4103
12
06.7
-61
15
7.4
-----
OpCl
6.0'
Cru
428
25
[  ]
NGC 4337
12
23.9
-58
08
8.9
-----
OpCl
3.5'
Cru
428
25
[  ]
NGC 4349
12
24.5
-61
54
7.4
-----
OpCl
15.0'
Cru
428
25
[  ]
H 5
12
25.2
-60
29
8.5
-----
OpCl
7.0'
Cru
428
25
[  ]
NGC 4463
12
30.0
-64
48
7.2
-----
OpCl
5.0'
Mus
450
25
[  ]
H 6
12
35.0
-68
10
9.9
-----
OpCl
7.0'
Mus
450
25
[  ]
NGC 4609
12
42.3
-62
58
6.9
-----
OpCl
5.0'
Cru
451
25
[  ]
COALSACK
12
52.0
-63
00
---
-----
DkNb
240'X360'
Cru
451
25
[  ]
NGC 4755
12
53.6
-60
20
4.2
-----
OpCl
10.0'
Cru
429
25
[  ]
NGC 4815
12
58.0
-64
57
8.6
-----
OpCl
3.0'
Mus
451
25
[  ]
NGC 4833
12
59.6
-70
53
7.3
-----
GbCl
13.5'
Mus
451
25
[  ]
NGC 4852
13
00.1
-59
36
8.9
-----
OpCl
11.0'
Cen
429
25
[  ]
NGC 5128
13
25.5
-43
01
7.0
35
Glxy
18'X14'
Cen
403
21
[  ]
NGC 5139
13
26.8
-47
29
3.5
-----
GbCl
36.0'
Cen
403
21
[  ]
NGC 5286
13
46.4
-51
22
7.6
-----
GbCl
9.1'
Cen
430
25
[  ]
NGC 5316
13
53.9
-61
52
6.0
-----
OpCl
13.0'
Cen
430
25
[  ]
NGC 5460
14
07.6
-48
19
5.6
-----
OpCl
25.0'
Cen
404
21
[  ]
NGC 5617
14
29.8
-60
43
6.3
-----
OpCl
10.0'
Cen
430
25
[  ]
NGC 5662
14
35.2
-56
33
5.5
-----
OpCl
12.0'
Cen
431
25
[  ]
NGC 5822
15
05.2
-54
21
6.5
-----
OpCl
39.0'
Lup
431
25
[  ]
NGC 5823
15
05.7
-55
36
7.9
-----
OpCl
10.0'
Cir
431
25
[  ]
NGC 5925
15
27.7
-54
31
8.4
-----
OpCl
14.0'
Nor
431
25
[  ]
NGC 6025
16
03.7
-60
30
5.1
-----
OpCl
12.0'
TrA
432
26
[  ]
NGC 6067
16
13.2
-54
13
5.6
-----
OpCl
12.0'
Nor
432
26
[  ]
H 10
16
15.6
-54
52
9.0
-----
OpCl
30.0'
Nor
432
26
[  ]
NGC 6087
16
18.9
-57
54
5.4
-----
OpCl
12.0'
Nor
432
26
[  ]
NGC 6124
16
25.6
-40
40
5.8
-----
OpCl
40.0'
Sco
407
22
[  ]
NGC 6134
16
27.7
-49
09
7.2
-----
OpCl
6.0'
Nor
407
22
[  ]
NGC 6152
16
32.7
-52
37
8.1
-----
OpCl
29.0'
Nor
433
26
[  ]
NGC 6167
16
34.4
-49
36
6.7
-----
OpCl
7.0'
Nor
407
22
[  ]
NGC 6208
16
49.5
-53
49
7.2
-----
OpCl
15.0'
Ara
433
26
[  ]
NGC 6231
16
54.0
-41
48
2.6
-----
OpCl
14.0'
Sco
407
22
[  ]
H 13
17
01.7
-48
06
9.0
-----
OpCl
15.0'
Ara
407
22
[  ]
IC 4651
17
24.7
-49
57
6.9
-----
OpCl
12.0'
Ara
408
22
[  ]
NGC 6352
17
25.5
-48
25
8.1
-----
GbCl
7.1'
Ara
408
22
[  ]
NGC 6362
17
31.9
-67
03
8.3
-----
GbCl
10.7'
Ara
455
26
[  ]
NGC 6397
17
40.7
-53
40
5.7
-----
GbCl
25.7'
Ara
434
26
[  ]
NGC 6541
18
08.0
-43
42
6.1
-----
GbCl
13.0'
CrA
409
22
[  ]
NGC 6584
18
18.6
-52
13
9.2
-----
GbCl
7.9'
Tel
434
26
[  ]
NGC 6752
19
10.9
-59
59
5.4
-----
GbCl
20.4'
Pav
435
26