NASA Observing Challenge Special Award Coordinator:

Aaron Clevenson
19411 Cluster Oaks Drive
Humble, TX 77346-2918
Telephone: 281-852-4667
E-mail: aaron@clevenson.org

  

 

 

 

 

 
Introduction

The Astronomical League has been working with NASA to bring you Observing Challenges.  These are opportunities to participate in events associated with space missions to objects within the Solar System or related to celestial events.  New opportunities will be added as new milestones for various missions or noteworthy celestial events occur.
Requirements and Rules

To earn the certification, you need to meet these requirements:

Image or sketch the required object(s)

Submit that image or sketch as indicated by that challenge.  These should show as much detail as possible.

Do an outreach activity associated with the event in the challenge

The deadline varies for each challenge and is typically one month after the event.  Late submissions will not be accepted.

You do not need to be a member of the Astronomical League to receive this certification.   If you are not a member and would like to become one, check with your local astronomical society, search for a local society on the Astronomical League Website or click here.

The certificates, which are suitable for framing will be emailed to you within a month after the deadline and may be printed by you .
The NASA Observing Challenges
Current Challenges:
The 2021 International Observe the Moon Night (October 16, 2021)
​
If you do not want to participate in the challenge, but do plan to participate in the International Observe the Moon Night, there is a downloadable certificate you can get by clicking here.
​
​This Observing Challenge is being conducted in cooperation with the Internation Observe the Moon Night.  More information can be found on their website:  https://moon.nasa.gov/observe-the-moon-night/.  This annual event is an opportunity for people worldwide to share the joy and pleasure of our nearest celestial neighbor, the Moon.  Whether you choose to just view the Moon and enjoy its beauty, or to pursue this Observing Challenge, we hope you will join us on this date, and on many other nights to gaze upon the Moon during its changing phases.
The official date for the International Observe the Moon Night is Saturday, October 16, 2021.  It is preferred that you participate on this night to make this a truly international event.  However, we know that the weather does not always cooperate.  So, you may make your observation any time between October 15, 2021 and October 22, 2021.  It may be done any time of the night that the Moon is visible to you.  Observations done outside of this window will not qualify for this challenge.
You do NOT need to be a member of the Astronomical League to participate in this challenge.
The requirements are:

Do an Outreach Activity.  This may be anything that promotes the International Observe the Moon Night, or promotes observing the Moon in general.  It may be done at any time from now through the submission deadline.
Observe the Moon with just your eyes.  No equipment is required.
Estimate the percent illuminated for the Moon.  None illuminated (New Moon) would be 0%, half illuminated (First Quarter Moon) would be 50%, and completely illuminated (Full Moon) would be 100%.
Make a sketch (artistic talent not required) or take an image of the Moon that includes the required features.
Select at least 10 of these features and indicate them on your sketch or image:

Mare Crisium
Mare Fecunditatis
Mare Frigoris
Mare Imbrium
Mare Nectaris
Mare Nubium
Mare Serenitatis
Mare Tranquillitatis
Crater Copernicus
Crater Tycho
Crater Rays from Crater Copernicus
The Woman in the Moon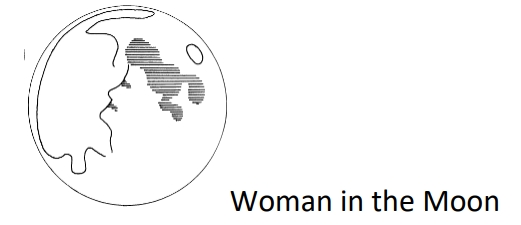 Deadline for submission is one month after the close of the possible observing window.  The Deadline is:  November 22, 2021.  No submissions will be accespted after this deadline, and please submit as soon as you can to facilitate award processing.
Send your submission to the Astronomical League Coordinator for this Observing Challenge, either through email (preferred) or through postal mail.
Be sure to include this information in your submission:
Your name
Your address
Your email address (if you have one)
The name of any Astronomy Club of which you are a member
Information about your Outreach Activity
Your sketch or image with the features identified
If you are conducting an Outreach Event or just observing the Moon on your own, there is also a downloadable certificate to commemorate the event.  You may download it and distribute it to participants in your event.  It is available here.  (under construction)
Note to Astronomical League members:  Although prior observations will not qualify for this Challenge, observations you do as part of this challenge can be used to meet requirements of the Lunar Observing Program or the Binocular Lunar Observering Certificate.
Previous Challenges that have been included in the program are:
New Horizons rendezvous with Pluto on July 14, 2015 (deadline: August 14, 2015).
Comet Siding Spring rendezvous with Mars on October 19, 2014 (deadline:  November 19, 2015).
Rosetta Spacecraft rendezvous with Comet Comet 67P Churyumov-Gerasimenko on November 11, 2014 (deadline: January 12, 2015).
TESS - Transiting Exoplanet Survey Satellite (deadline: July 31,2018)
Mars InSight Mission - landing is scheduled for 11/26/2018 

(deadline: December 31, 2018)

Apollo - 50th Anniversary (deadline: August 31, 2019)
Mercury Transit of the Sun (deadline: December 11, 2019)
Landing og the Perseverance Rover on Mars (deadline: March 18, 2021)
NASA Observing Challenges Special Awards Coordinator:

Aaron B. Clevenson
19411 Cluster Oaks Drive
Humble, TX 77346-2918
(281) 852-4667
E-mail: aaron@clevenson.org