The Astronomical League sponsors the National Young Astronomer Award (NYAA) to recognize the outstanding astronomical research achievements of high-school-age students throughout the United States.  Please spread the word about this. 
The Application and Award:
To apply, eligible young astronomers should submit the application package by the deadline, January 31.  The package will consist of a completed application form, a well-documented astronomy project of the applicant's own work, a summary of astronomy-related activities, and optional exhibits.  It is recommended that applicants be members of the Astronomical League, either through an astronomy club or a youth member-at-large membership.  A team of professional astronomers will judge the entries.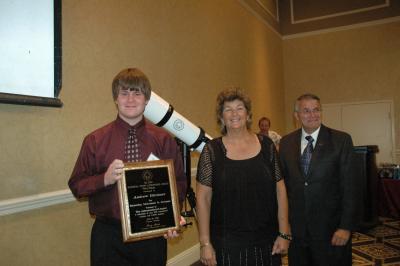 The 2011 winners were:
2. Travis Le; Honolulu, Hawaii; "A Comparison of Similar Planetary Systems of WASP-2"
3. Kaitlyn Regan; Castle Rock, Colorado; "The relationship between light intensity of an object (the moon) and different lenses attached to a 4 1/8-inch Astroscan telescope and an 8-inch Star Hopper Newtonian reflector"
The 2010 1st place research project, created by Andrew Hitchner, is posted here (please click on the link).  This should give prospective applicants a reference regarding what a top finishing NYAA project looks like.  Other use of this material is prohibited without written permission from the League and the author of the project.
Image Credit: International Dark Sky Association
Andrew Hitchner receives 2010 NYAA award from President Terry Mann and President-Elect Carroll Iorg.
The Award Telescope:
The first-place winner will receive a 5-inch refractor telescope.  This prize is made possible by the generosity of Explore Scientific which is also contributing significantly to the administration of the NYAA program.  The winner also receives an all-expenses-paid trip to the Leagues national convention (ALCon) to receive the award.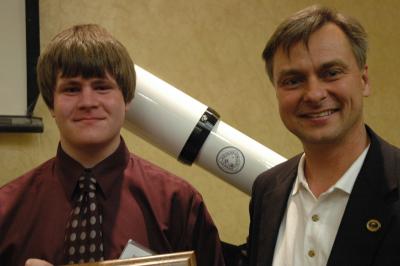 Image Credit: International Darksky Association
Scott Roberts, Explorer Scientific and Andrew Hitchner.
McDonald Observatory Lifetime Passes:
The University of Texas McDonald Observatory presents "lifetime passes" to the top finishers.  This award enables winners to share telescope time with professional astronomers at the observatory.
Other Recognition:
Special plaques are presented to the first, second and third place winners at the league's national convention each summer. Announcements regarding the top finishers will also be submitted to the major national astronomy magazines, the League's quarterly magazine, the Reflector and to the top finishers' local news media.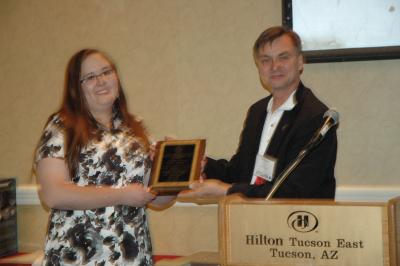 Image Credit: International Dark Sky Association
Erika Tinsely, 3rd Place NYAA Award Winner and Scott Roberts, Explorer Scientific
Past NYAA Top Finishers with Title of Project
1993
Blake Warren Thomas; Edgewood, New Mexico; "Spectrographic Analysis of Cepheid Pulsation"
1994
Stephanie C. Cinereski; Gainesville, Florida; "Solar Flare and Sunspot Research"
1995
Heather E. Castellano; St. Hedwig, Texas; "Elements of Impact Crater Formation"
1996
Mani S. Mahjouri; Columbia, Maryland; "Simulation of Charged Particle Motion in Jupiter's Magnetosphere"
1997
Heather Cameron; Greenwich, Nova Scotia; "Solar Observation Station"
1998
Mary Dombrowski; Glastonbury, Connecticut; "Cataclysmic Stellar Variability with Eclipsing Binary Superimposition"
1999
Elizabeth Fernandez; Albuquerque, New Mexico; "Active Galaxies in the Perseus Supercluster"
2000
Patrick L. Kelly; Washington, DC; "The Color-Magnitude Relation in Hickson Compact Group 62"
2001
Susannah C. Lazar; Baton  Rouge, Louisiana; "Performed Photometry of Many Asteroids"
2002
Albert King Lin; Fresh Meadows, New York; "A Survey of the public Chandra Data Archive (CDA) in Search of Serendipitous X-ray Pulsars:  A Systematic Approach"
2003
Maxwell Cassady Moe; Fort Collins, Colorado; "Demographic  and Atmospheric Effects on the Quality of the Night Sky"
2004
John Davis; Penfield, New York; "Built a Research Grade Observatory From Scratch"
2005
Christopher Limbach; Milwaukee, Wisconsin; "Light Curve Analysis of Eclipsing Binary Star EP Aurigae"
2006
 Mary Masterman; Oklahoma City, Oklahoma; "Investigating Stars and Nebulae Through the Construction of an Astronomical Spectrograph." 
Daniel Handlin; Lincroft, New Jersey; "An Empirical Determination of the Effect of Atmospheric Drag on Orbital Decay"
Benjamin Jones; Helotes, Texas; "Achieving Equal Light Distribution:  Creating Effective Outdoor Lighting Modifications: A Second Year Project" 
2007
 Naomi Pequette; Littleton, Colorado; "The Orion Nebula:  A Good Contender for Housing an "Earth-like" Planet"
2008
 John Hodge II; Columbia, South Carolina; "Light Curve Analysis of Cataclysmic Variable Star Systems:  Cam Var 06, FS Aur, HT Cas, IP Peg, and EQ Aqr" 
    Honorable Mention:  Lara Knorek;  Kalamazoo, Michigan
                                      Neil Pearson; Evergreen, Colorado
2009
 Harry Gaebler; Bloomington, Indiana; "A Study of the Correlation Between Spiral Galaxy Distance and Morphology Using both Redshift and Extended Object Photometry"
Jordan Bramble; Virginia Beach, Virginia' "Asteroid Research Using the Fan Mountain Observatory Rapid Response Robotic Telescope"  
 Gayathri Cheran; Burke, Virginia; "A Study of the Abundance of Wolf Rayet Stars"
2010
 Andrew Hitchner; Norristown, Pennsylvania; "A Study in Stellar Spectroscopy"
Tongji "Youyou" Li; Hershey, Pennsylvania; "Will Humans Become Extinct Like the Dinosaurs Did?"
Erika Tinley; Tucson, Arizona;  "The Geometry of Active Galactic Nuclei as Evidenced by Their Emission Line Spectra"