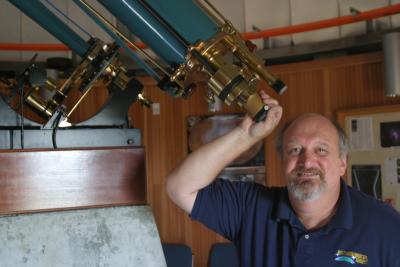 Dr. Mike Reynolds has forty years in astronomy and space sciences in the gamut of a high school and university instructor, planetarium and museum director, researcher, and college administrator. He has received numerous recognition for his work, including the 1986 Florida State Teacher of the Year, NASA Teacher-in-Space National Finalist, and the G. Bruce Blair Medal. Reynolds has written a number of astronomy books and articles, including service as an Astronomy magazine contributing editor. He has led numerous astronomical expeditions worldwide, and has also served as an invited speaker internationally at a variety of events, from book signings to lectures on meteorites (his area of research), the science of science fiction, and general astronomy. He was an invited TED speaker, talking about The Universe is our Classroom. Reynolds has appeared on several Discovery Channel and National Geographic programs, such as Auction Kings.
Mike's avocation is solar eclipse chasing, starting with the March 7, 1970 total solar eclipse, has taken him to eighteen total solar eclipses, with some 53 minutes spent in totality "under the shadow."
In honor of his popularization of astronomy and the space sciences, the International Astronomical Union honored Reynolds with the naming of asteroid 2004 SY26 "Michael Reynolds," nominated by fellow amateur astronomers David Levy and Tippy D'Auria.
Reynolds is currently is a Professor of Astronomy at Florida State College and the Executive Director Emeritus of the Chabot Space & Science Center in Oakland, California. He also is the Eclipse Coordinator for the Association of Lunar and Planetary Observers (ALPO), and also currently serves as the Executive Director of the ALPO.