The Astronomical League is pleased to announce the winner of the 2007 National Young Astronomer Award program. Thousands of high school students from across the country were eligible to compete for the 2007 award.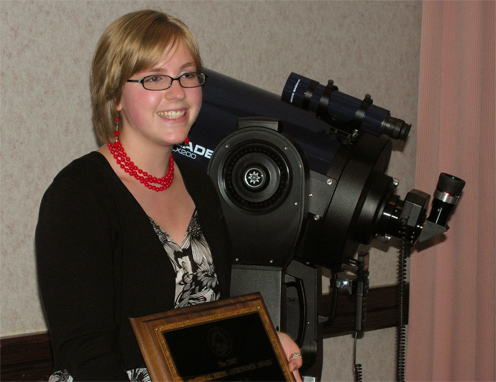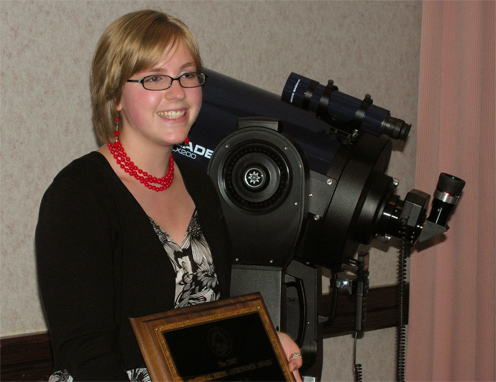 Naomi Pequette 2007 Winner
Naomi is a senior at Littleton High School in Littleton, Colorado. She is an extremely dedicated and talented member of her local club, the Denver Astronomical Society, in participating in many hours of outreach to the public. Among her many astronomical activities, she finds time to volunteer for such groups as the Denver Museum of Nature & Science, where she shows incredible leadership qualities and skills with the Museum's Active Teens of the Museum program, which consists of over 130 teens who volunteer for education activities year round.
Naomi has taken college astronomy courses during her high school years. Among her research work has been a project entitled "The Orion Nebula: A Good Contender for Housing an "Earth-like" Planet". "Over 90 percent of the stars in the Orion Nebula are surrounded by disks of dust, known as protoplanetary disks. Astronomers predict that about 50 percent of these are good candidates for planetary formation. With the sheer number of protoplanetary disks, there is a probability that the nebula would be a likely place for planet formation. But, the Orion Nebular is a violent place. Everyday, these disks are bombarded by x-ray super-flares, shockwaves from supernovae and high-speed jets of hot gas, as well as ultraviolet radiation. Can a planet, at any stage of formation, nonetheless an 'earth-like' planet, survive these volatile conditions"?
Quoting further from her research, "it is very possible that an 'earth-like' planet may exist in the Orion Nebula one day. Our solar system formed in an Orion-like environment. Ultraviolet radiation and x-ray super flares may have allowed Earth to survive and give it the conditions that exist today. Astronomers now believe the same thing is happening within the protoplanetary disks in the Orion Nebula. The conditions are right, and in a few million years there is a high probability that there will be an 'earth-like' planet in the Orion Nebula".
She has won an all-expenses-paid trip to ALConExpo 2007, the Astronomical League's annual convention, which will be held August 3-4, 2007, in Portland, Oregon. In addition, Meade Instruments Corp. has graciously donated one of their fine LX-200R telescopes, valued at over $3,000, to the winner. A League plaque will be presented to Naomi at the Saturday night banquet at AlconExpo 2007, and she will also receive a complimentary membership in the International Dark Sky Association.
For more information about entering the 2008 NYAA awards program, please contact Carroll Iorg, Vice President, at carroll-iorg@kc.rr.com (phone: 816-444-4878). Astronomy club officers and members, please encourage your young club members and other young people you may come in contact with to apply for this award. Whether it is a science project related to astronomy or research done at a summer astronomy camp, these types of projects have a good chance of being top finishers. The variety of submissions runs the gamut. In one recent year for example, a applicant who set up a new line of telescope mounts for sales internationally was our first place finisher.